In an effort to responsibly control the spread of COVID-19 while the travel and hospitality industry gradually resumes operations, the USA, Canada, the UK, and other countries are now requiring negative COVID-19 test results from individuals as they board flights to their country.
As a solution to this new measure, The Excellence Collection has partnered with certified local labs to provide COVID-19 tests for guests whose home countries require a negative result to board a return flight. Testing will be available on-site at all of the brand's hotels and resorts. We will strictly follow further government requirements to keep our guests updated and with the best options we can provide.
About the Testing
The COVID-19 test is currently available in the medical center at each of our hotels and resorts: Excellence Playa Mujeres, Excellence Riviera Cancun, Excellence El Carmen, Excellence Punta Cana, Excellence Oyster Bay, Finest Playa Mujeres, Finest Punta Cana, and Beloved Playa Mujeres. The service will be available in all the properties of The Excellence Collection if this requirement still exists at the time of reopening.
The tests offered are Antigen for USA and UK; and PCR for Canada. These are the COVID-19 viral tests accepted by these and other countries for reentry.
Test Availability and Timing
Testing will be provided at the resort's on-site medical center every morning from 9:00 a.m. to 12:00 p.m. from Monday to Sunday. Antigen test results will be delivered the same day, while PCR test results can take up to 48 hours.
Please note that starting December 6, all air passengers boarding a flight to the USA, are required to present:
A negative COVID-19 antigen test result, taken no more than 1 day before travel, regardless of vaccination status.
For our Canada guests, it is required to present a PCR test result even if they:
Have tested negative for COVID-19 before the 72-hour period

Have been

vaccinated

for COVID-19

Recovered from COVID-19 and no longer test positive

Recovered from COVID-19 and continue to test positive
For the UK, starting January 7, all non-vaccinated guests aged 12 years and over are required to present:
A negative COVID-19 antigen test result, taken no more than 2 days before travel, regardless of vaccination status.
Please remember that it is the sole responsibility of guests to verify and comply with all requirements and to make timely arrangements.
Test Pricing
Please note that as of December 1, 2021, all the new check-ins will incur an additional COVID-19 antigen and PCR test fee. This cost will have to be paid directly at the hotel or resort, according to the following chart: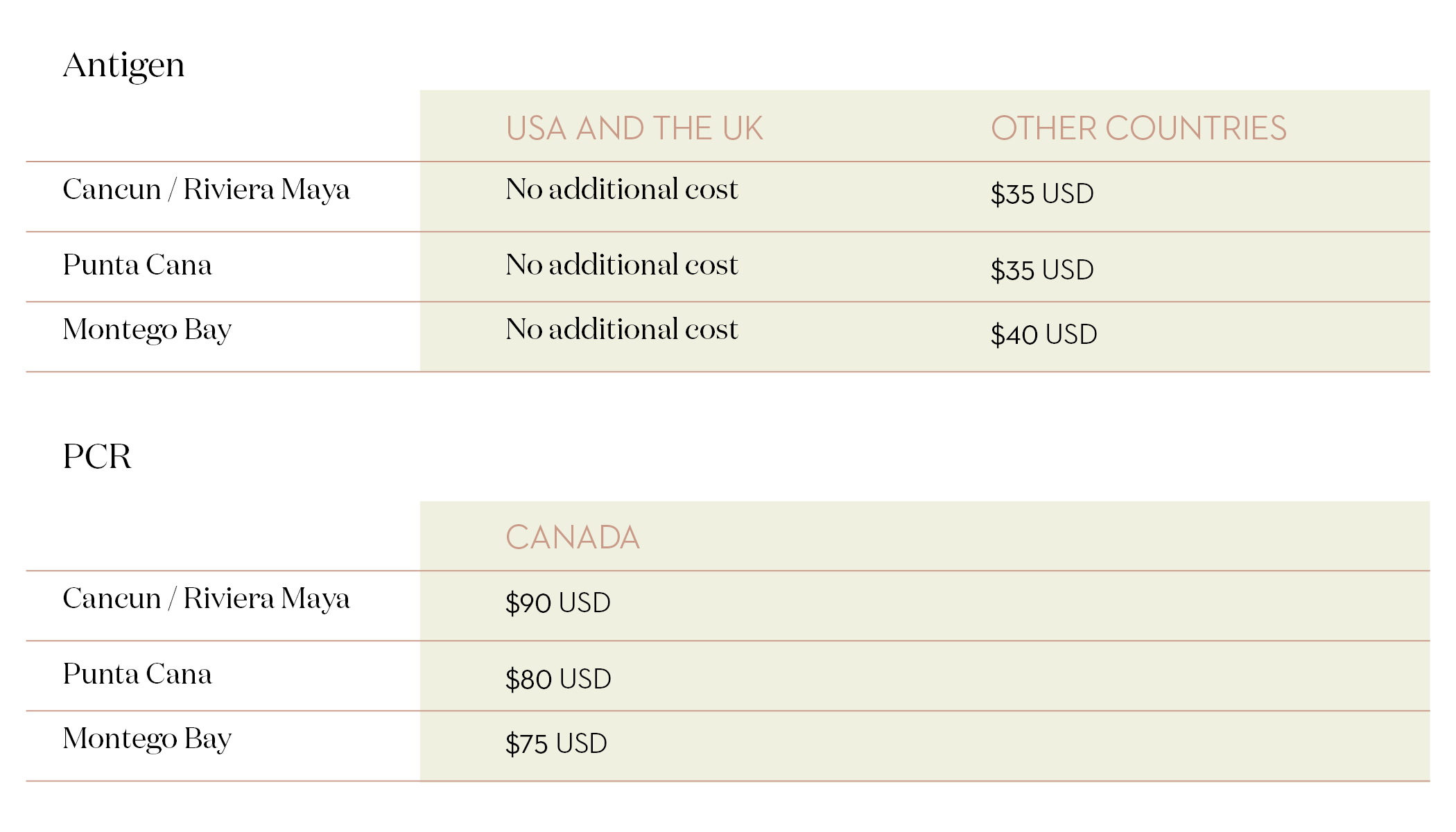 We will continue to monitor international air travel requirements in the coming months, so the free testing option could possibly be changed, modified, extended, or suspended before or after January 31, 2022, especially if the country no longer holds this as a requirement.
Of course, we will keep our guests informed of any testing updates in the coming weeks and months.
For the UK, a negative COVID-19 test result is now only required for non-vaccinated travelers.
Our decision to apply a cost for the antigen test is aligned with the latest updates of the authorities and the high percentage of vaccinations that have been administered to date in the country.
For guests who wish to have the test but whose countries do not require it, the applicable fee will be the same as shown in the chart aforementioned. This option will remain available indefinitely.
Disclaimer
We remind our guests that this is a third-party service provided by a certified local lab in alliance with our in-house Doctors, so this service must be considered as an agreement between the guest and the provider. The Excellence Collection will not accept responsibility for anything related to the use of this service since it is not part of the services offered by our hotels and resorts.
The use of this service is at the complete discretion of the guest and will always have the option to visit any local clinic to take the test on his/her own.
The Excellence Collection is doing this as an initiative for the guests to take the COVID-19 viral test without leaving the hotel facilities.