We are a collection of All Inclusive resorts in the Caribbean designed to surpass the expectations and needs of our guests through excellence in service, throughout our Caribbean resorts. By focussing all our efforts in listening and understanding what our guests need and to best accomplish that, we focus on our human capital and its excellence in service, accomplishing it as a big family.
The Excellence Collection is comprised of three high end All Inclusive brands located in Mexico and the Caribbean:
Excellence Resorts: Infinite Excellence, for Adults
Finest Resorts: Infinite Excellence, for You to Share
Beloved Hotels: Infinite Excellence, Exclusively for Two
Through excellence, attitude of service, empathy, teamwork, and commitment, we aim to achieve our company goals:
To surpass the expectations and needs of our guests
To ensure the satisfaction and well-being of our employees
To work towards a more socially responsible future
To maintain and improve profitability
To remain committed to the environment
Brand Values
Experience Infinite Excellence at Our Curated Collection of Luxurious Resorts
Infinite Excellence encapsulates the company's values and the experience our guests feel once they stay with us and discover our All Inclusive resorts in the Caribbean.
Thanks to our Innovative Curation, we consistently evolve and upgrade our varied offerings, creating an enveloping experience of luxury our guests will never forget. We stay ahead of the curve in dining, mixology, entertainment and wellness, doing away with all limits to your comfort and enjoyment, for an experience to remember.
Through our Bespoke Service, we bring a human touch to everything we do, offering luxury that feels personalized and tailored to each guest. Our service philosophy is a commitment to coming together as a team to create an authentic, intimate experience that is as friendly and welcoming as family.
Ultimately, our aim is for our guests to enjoy Extraordinary Moments and to show them the time of their life. Balancing their desire for adventure with the relaxation they deserve, we take care of everything so they can fully experience an exotic paradise, on their terms.
Discover more about our All Inclusive hotels and resorts in the Caribbean! We are proud of how far we have come since opening our first property over 20 years ago.
The Excellence Collection is a family-owned and -operated hotels and resorts group specialized in hotel management and worldwide real estate development, with a primary presence in the Caribbean. The company owns and manages upscale, award-winning resort properties in the Dominican Republic, Mexico, and Jamaica.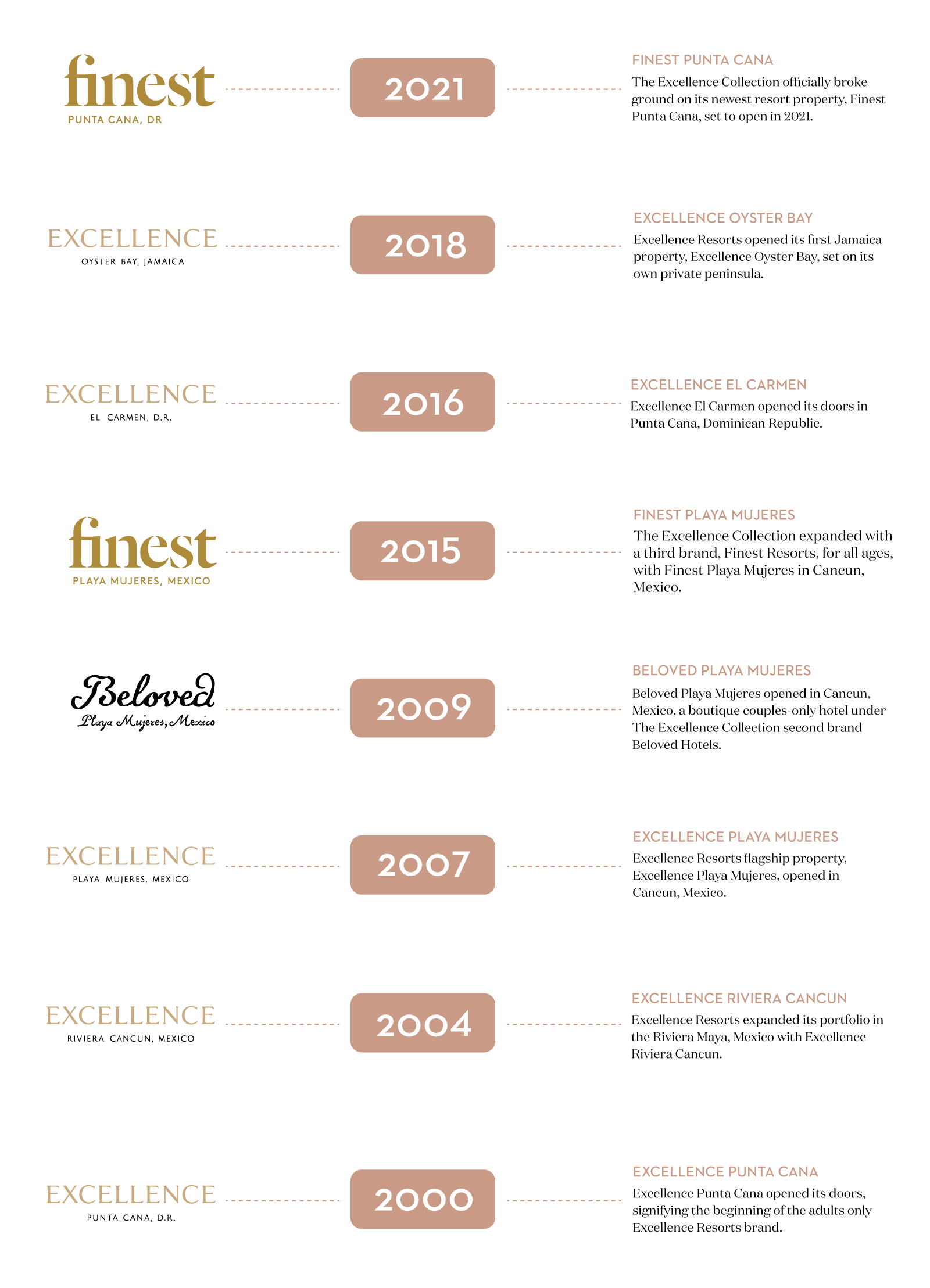 The Excellence Collection core values are Innovative Curation, Bespoke Service, and Extraordinary Moments to create the perfect environment to enhance the vacation experience. The Excellence Collection properties are recognized within the industry for their quality and exceptional service. The group's hotels and resorts have garnered prestigious awards, including the Gold List from Conde Nast Magazine; Travel + Leisure's World's Best Awards; TripAdvisor's Certificate of Excellence, and many others from international wholesalers.
Our collection of All Inclusive resorts in the Caribbean is a joint investment between Medieval Times, Zafiro Hotels and Viva Hotels. Each company offers their expertise in the hotel, real estate, entertainment and construction sectors with the purpose to unify that experience into one company: The Excellence Collection.
The MT Group is an international business group that actively invests in the hotel, real estate development and entertainment sectors. It has over 20 years of experience in the entertainment sector in the US and Canada with its Medieval Times dinner show castles. Part of the MT Group, you can also find the hotel company Prinsotel in Mallorca and Menorca, Spain, and the Captain Hook Galleons in Cancun, Mexico, where authentic Spanish Galleon replicas await you for an unbelievable pirate experience.
The name Zafiro Hotels has been around since 2017, when it was chosen by owner Bartomeu Plomer. The new Zafiro Hotels brand is the result of the reorganization of Viva & Vanity Hotels, when control of the company was passed down to the family's next generation.
Viva Hotels & Resorts Group has more than 25 years of experience in the construction development and hotel sectors. In this last sector, their own hotels are operated under the brand name Viva Hotels & Resorts and Vanity Hotels, both in Mallorca and Menorca.