What Are The Best Cenotes in Mexico And Which Ones Should You Visit?
Explore the best cenotes for every occasion in Valladolid and Cancun so that you can enjoy the top limestone sinkhole swimming spots in Mexico.
Around the world, there are upward of around 7,000 known cenotes and Mexico has over 6,000 of them (most of these are near Cancun). This makes Mexico the obvious best choice to experience some of the best cenotes in the world. So are we going to list all 6,000 cenotes and discuss each one in detail? I certainly hope not.
Instead, why don't we take a look at the best cenotes for each occasion so that you can choose the ideal cenote setting for the ambiance and type of experience that you would like on your vacation? Yes. That sounds like a much better idea.
Join us as we look at the best and most photogenic limestone sinkholes in Mexico!
The best historical centote - Ik Kil Cenote
When you think of Mexican history and archeology what comes to mind? If your answer was not ancient tacos then you are likely thinking of the famous Chichen Itza. This wonder of the world is full of historical intrigue and discovery. But did you know that one of the best parts about it is the nearby cenote?
Whilst you can swim in the Ik Kil cenote, this place holds a deep place in Mayan history who viewed this as a sacred spot. Long vines reach down into this historical enclave and the past awaits to be explored. The Ik Kil cenote is about 60 meters in diameter, the water is approximately 40 feet deep, and has stairs that lead down about 26 meters inside the cenote before you reach the water's surface.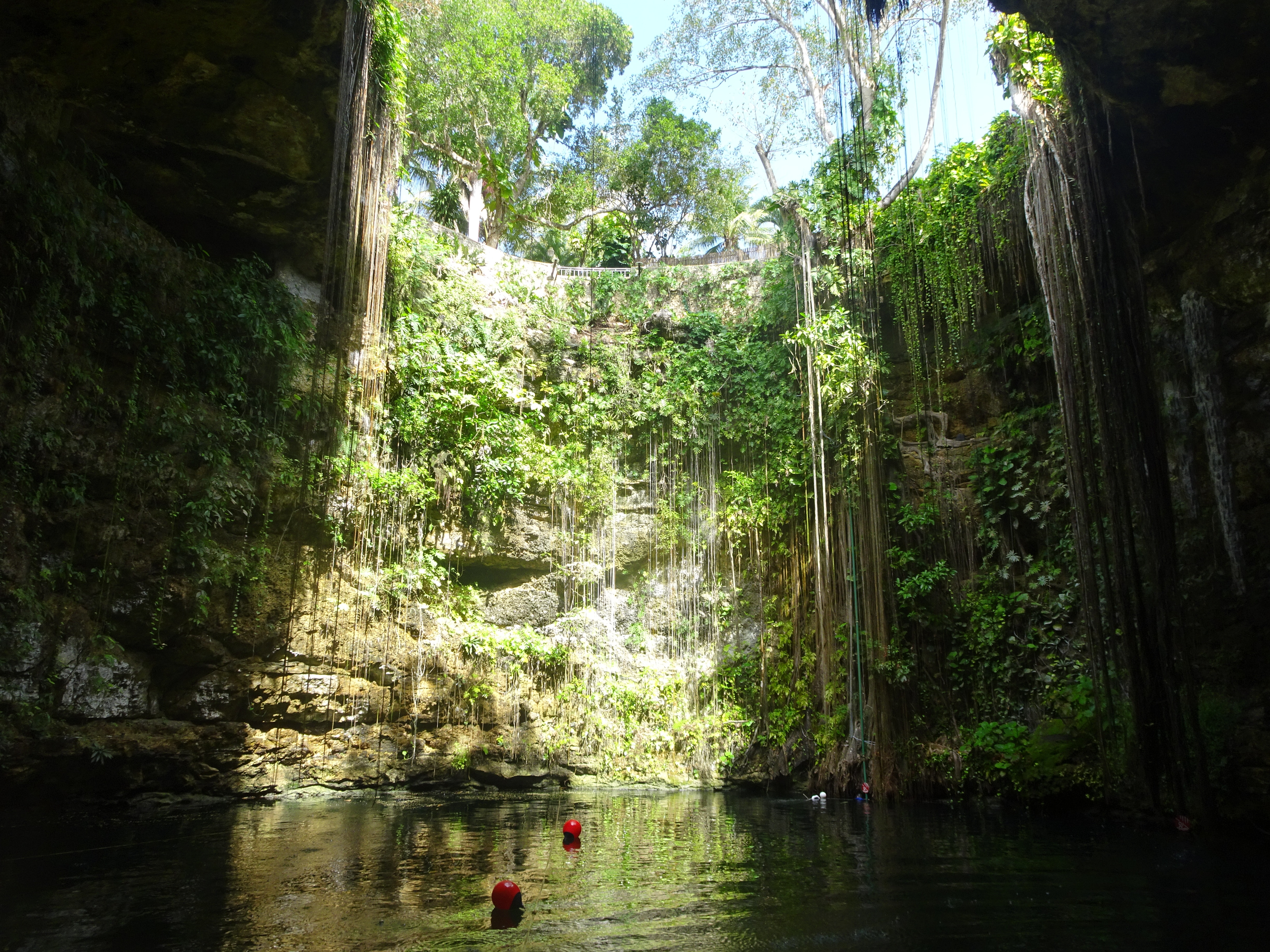 The best cenote for your Instagram - Cenote Suytun
Okay, this one has to be mentioned. The best cenote in Valladolid. We know how important those Instagram snaps are and if you really want to show off a bit to your friends, Cenote Suytun is the #1 hot spot to visit.
Why does everyone love taking pictures on vacation here? Well, the still water and the rock formations are all impressive. But what really sells it all and makes for the perfect photo is the stream of sunlight that pours down in a straight line into the center of this cenote. To make the most of this…there is a spot in the center where you can stand surrounded by water with the sun streaming down on your face like you yourself are a ray of sunshine (I am sure you are)
The best cenote for tropical vibes - Cenote Azul
You are in Mexico. You are in a tropical paradise. You are surrounded by lush greenery and laid back settings. One place that really captures these feelings and creates a gorgeous Caribbean jungle vibe is the beautiful Cenote Azul.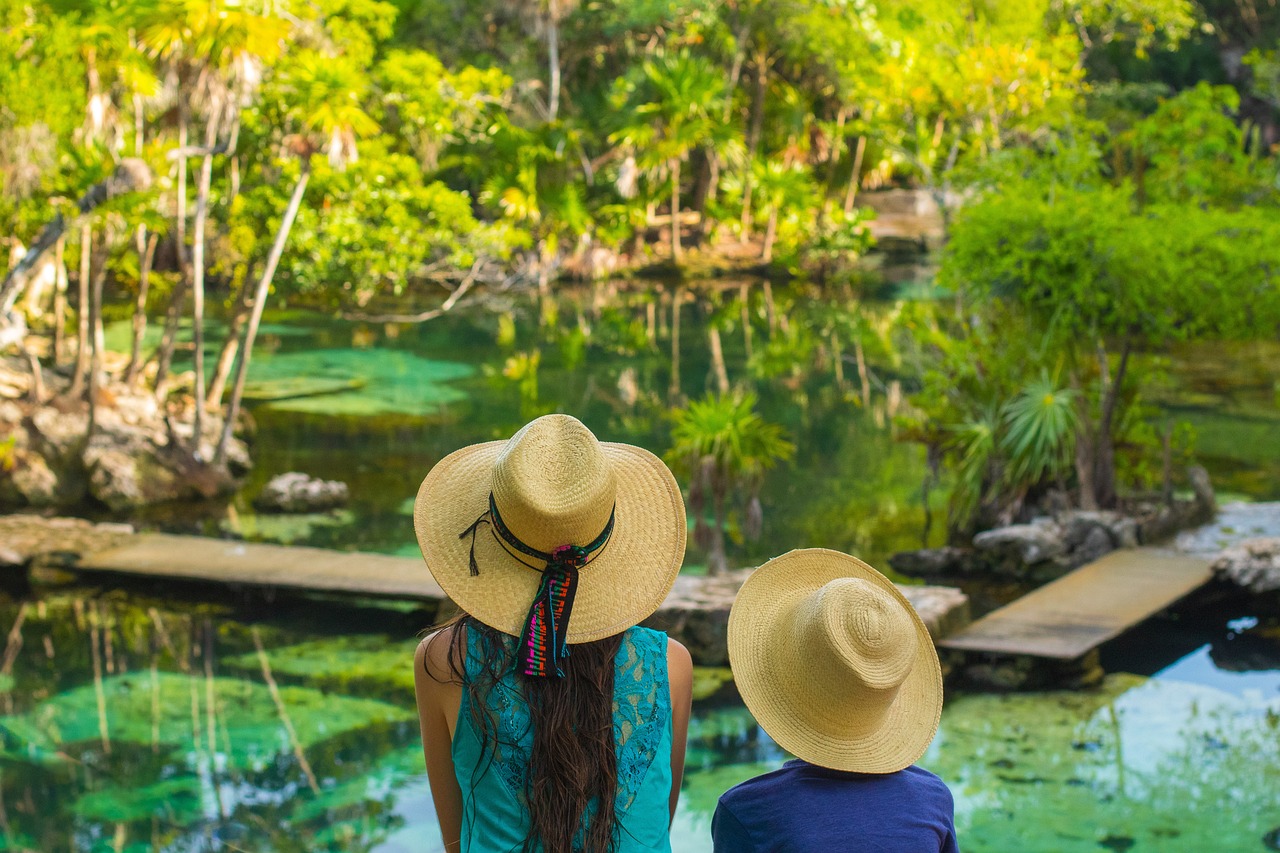 If you want a lazy day by the shockingly vibrant waters of a Mexican oasis, this is the place to go. It really looks like some tropical fairyland garden. Capturing the beauty and sunny splendor of this spot in words, is impossible. But if I had to try, (and I kind of do), I would call it "a natural utopia."
The best cenote for adrenaline lovers - Cenote Calavera
Do you love that rush? Do you thrive in situations that get your blood pumping? Well if you want that combined with a really cool cenote then I have just the thing. Cenote Calavera! The name literally means "Skull" which in itself is scary. Likely it was given this name due to the openings that make it look vaguely like a skull but some other people call it "The Cave of Doom" which I think is one of the most awesome names I've ever heard.
This spot is popular with cave jumpers who leap into the holes in the earth and plummet down into the cavernous waters below.
The best cenote for adventure activities - Cenote Sol & Luna
When you want fun and adventure and a bunch of exciting activities around the cenote then Cenote Sol and Luna are worth a look. With zip lines where you drop off into the water, ATVs that surround the nearby area, and a bunch more things to do, this one is not about Cenote serenity but adventure, excitement, and fun times with friends and family.
The best cenote for scuba diving- Cenote Dos Ojos
We already know that Cancun is a paradise but let's not limit that to the land and ocean. The Dos Ojos Cenote which literally means "two eyes" in Spanish, is an underwater paradise of exploration and discovery. The name aptly fits because two large limestone sinkholes are connected by a cave that you can travel through underwater.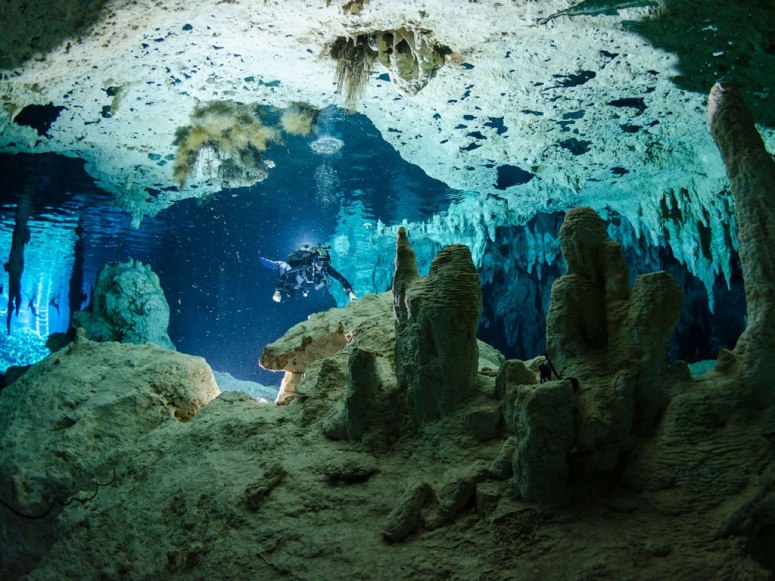 Obviously, you are going to need some equipment though. Thankfully, not only experienced scuba divers but many visitors are able to enjoy this underwater adventure with the snorkeling tours. The water is pristinely clear and some of the caves though underwater, are some of the most impressive rock formations you will ever see.
The best cenote for families - Cenote Yax Kin
Yax Kin in the Mayan language literally translates to "New Sun". This sunny spot is a perfect place for families to unwind and relax. Whilst some cenotes may be ok for larger kids, Cenote Yax Kin is a great spot that can be suitable even for the younger ones. Whilst supervision and care are always a "Yes", this is by far the most kid and baby friendly cenote around.
The varying depths make it great for kids of all ages and a good place to teach your kids how to snorkel.
The most unique cenote - Cenote Sac-Aua
This cenote was named after the tree growing out of its roof. Whilst most cenotes offer a circular swimming pool with a cavernous ambiance, this cenote has an island with trees growing out of it all the way up into the mouth of the cenote.
This allows you to explore the tiny little island, swim around it in the stretch of water surrounding the land, or hire a kayak and paddle your way around this gorgeous little cenote circuit.
The least crowded cenote - Cenote Yaxmuul
Some cenotes are extremely popular. But with so many to choose from, you can still find a beautiful cenote without having to deal with the crowds. This is where Cenote Yaxmuul comes in. With extensive caves to swim in and explore, you can do so at your own pace without having to share it with a large quantity of people.
If you want quiet tranquility and a peaceful swim in a stunning cenote then Yaxmuul National Park has the place for you.
The best place to stay near the cenotes
So now you have an amazing, incredible, spectacular and may I say well put together a list of the best cenotes to visit in Mexico. But, where can you stay near them all so that you can visit your favorites?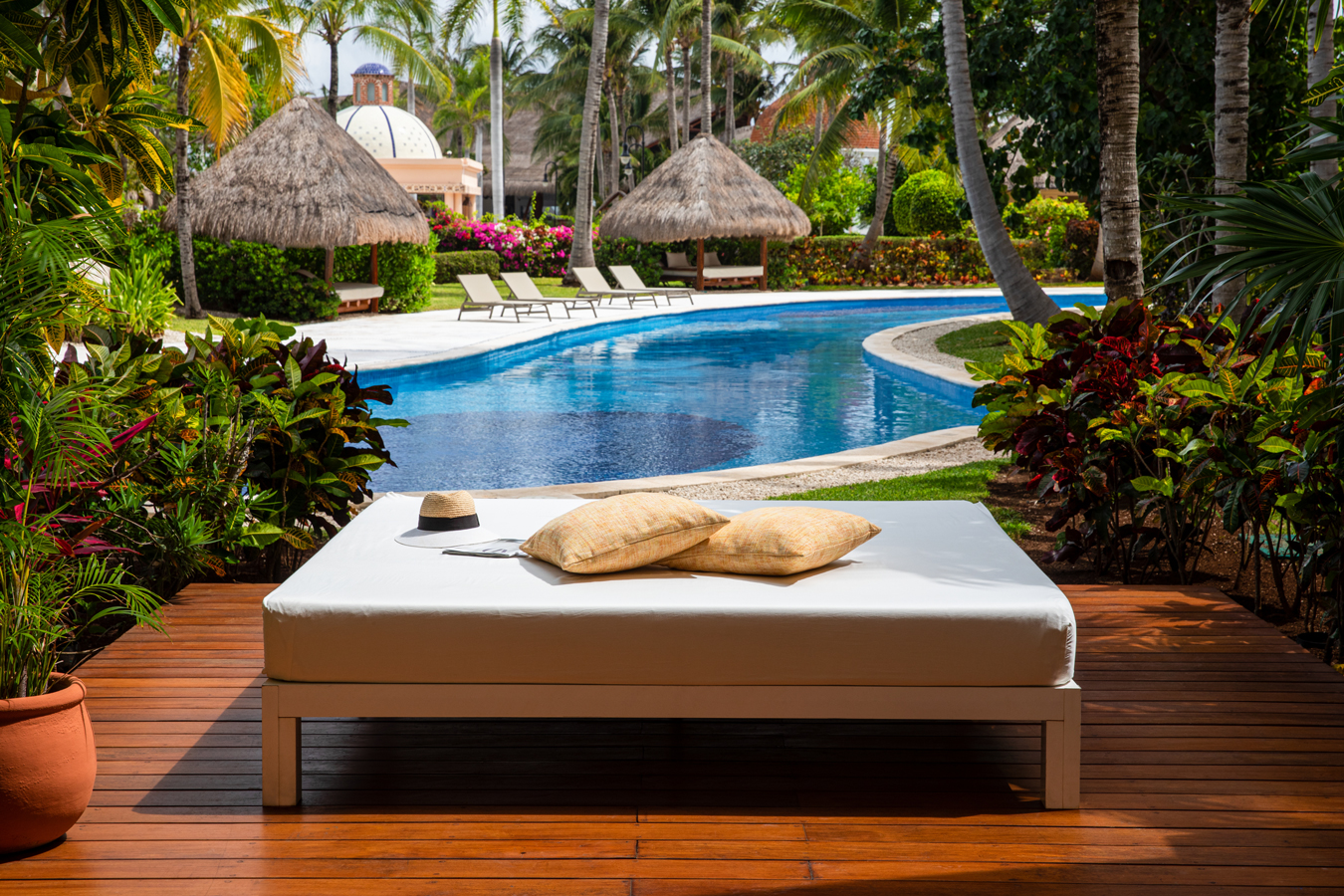 The solution to all your cenote accessibility issues is the adults only All Inclusive paradise resort of Excellence Riviera Cancun. (For families of all ages the closest option would be Finest Playa Mujeres).Whilst no resort is adjacent to all 6,000 cenotes, Excellence Riviera Cancun has a prized location in the Riviera Maya with close proximity to quite a few of the best cenotes around.
Here are the distances from this resort for this top tier list of cenotes. This All Inclusive haven is approximately only…
20 minutes from Sol & Luna cenote.

50 minutes from Azul cenote.

1 hour 5 minutes from Yax Kin cenote and Yaxmuul cenote.

1 hour 20 minutes from Calavera cenote and Dos Ojos cenote.

2 hours from Suytun cenote.

2 hours 30 minutes from Ik Kil cenote and Sac-Aua cenote.
Explore the wonders of all the best cenotes in Mexico and then come back again and again to keep exploring more. After all, there are over 6,000 of them here!
---
Other Articles you may like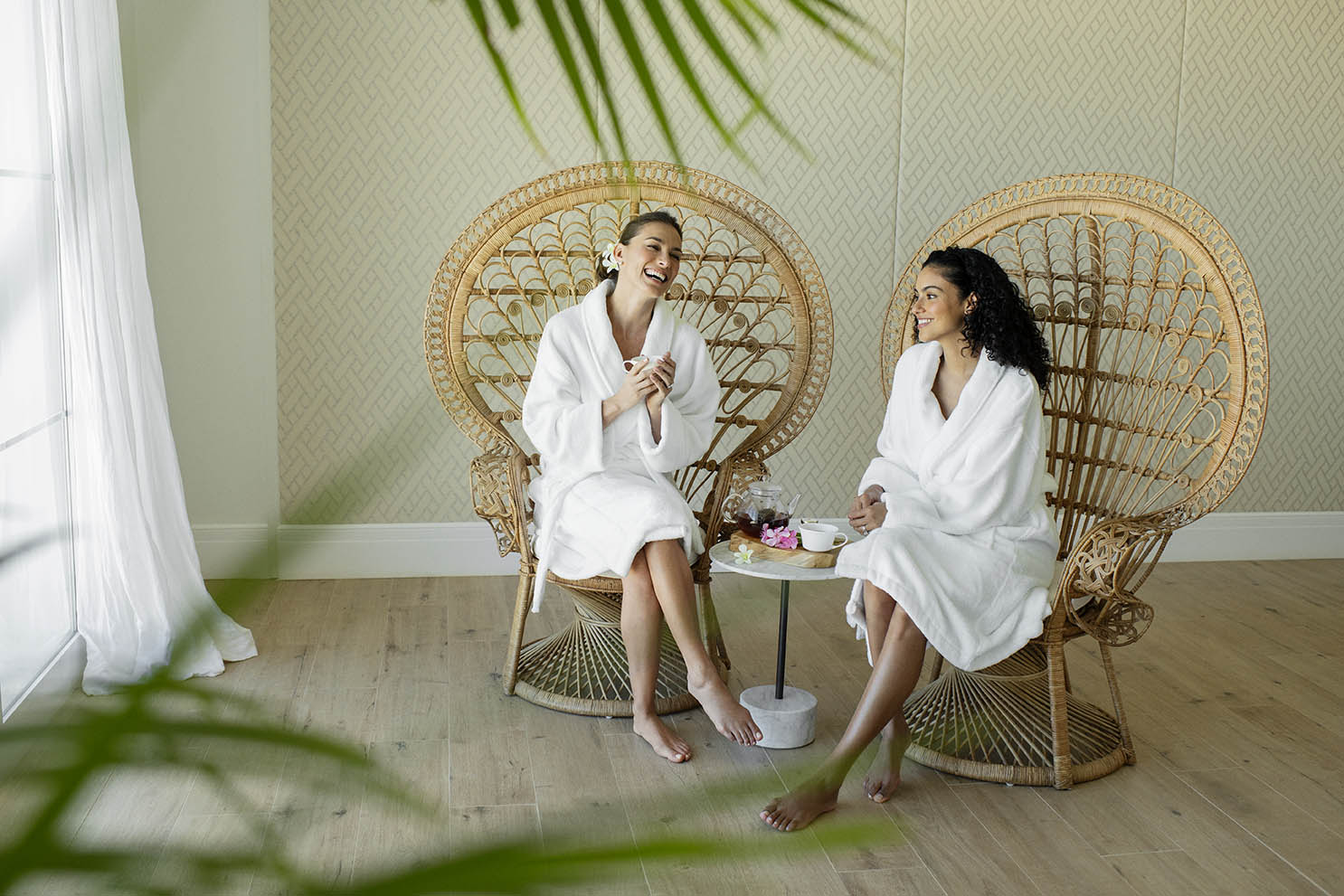 The 5 Benefits of Spa And Beauty Treatments For You And Your Bridal Party
Looking for special moments with your bridesmaids? Come and see the benefits of a spa and why you should take some beauty treatments together.
Read more